Although Dash ($DASH) has been on an upward slope at the time of writing this article (17 Feb 2022) there are still doubts about this project since it has disappeared for a while and people are asking "is Dash crypto dead? or still going to grow further?"
Article Summary
Dash promises fast and private transactions.
It is better when you compare it to Bitcoin
There are some controversies around the crypto which makes it hard to trust.
The future of the coin depends on whether they deliver their promises and if they move according to the roadmap.
The Dash crypto project has some interesting ideas behind it, but its growth has disappeared. In this article, we will go through what the Dash project is and what it is used for. I will also share my thoughts and predictions regarding the price of this cryptocurrency in the current year.
What is Dash crypto? is it a reliable project?
Dash stands for digital cash (D+ash). this name is 3rd name of this project. In case you are wondering, the 1st title was Xcoin then the name of the project was changed to Darkcoin and now it's called Dash which seems to be the final name of the project and its coin.
The change in the name of the coin is one of the many reasons why people are asking the question: "is Dash crypto dead?"
Are you wondering why the name Darkcoin was chosen for this coin? it's due to the fact that it can make transactions 100% private and protect the identity of the users while making these transactions.
Another benefit to Dash is its low transaction fees. Dash costs around 10 cents, while Bitcoin transactions are around 2-4 dollars.
The most interesting ideas behind Dash are the two concepts called DAO and Masternodes – Here, DAO stands for Decentralized Autonomous Organization.
Almost half of the new coins that are created (45 per cent) belong to the miners, another 45% go to the master nodes and the rest of the coin (10%) go to DAO. DAO is similar to a treasury that is used to fund things like marketing that will help the Dash project grow further.
In addition, anyone can suggest a project or funding idea for a fee of 5 Dash coins. Every 30 days Masternodes vote on the proposals with either a vote for, against or an abstain vote. If the proposal passes it gets money from the DAO.
Nobody likes to work for free and the DAO ensures there is money left over after every block to fund whatever proposal that master nodes agree on. They are also responsible for 'Instasend' and 'Privatesend' on the Dash network.
Privatesend
This unique feature makes transactions 100% private. The way master nodes make this happen is by taking coins and mixing them with the rest of the coins. You might be thinking cryptocurrency is private, but you might be surprised to hear that it's not. Even Bitcoin shows wallet addresses and records all of the transactions.
Instasend
This feature is there to ensure that the transaction will be locked. This feature will work even if it's not recorded on the blockchain. The transaction is instant and the fee required for this service is higher. One of the main advantages of this service is that the transaction only takes around 1 second.
Dash has a maximum supply of 18 million coins compared to the maximum supply of Bitcoins at around 21 million.
Dash uses a system of proof of stake meaning someone can stake dash coins to support the network. Dash also uses proof of work because masternodes provide the service of instasend and privatesend.
Is Dash crypto dead? why do people think so?
One of the reasons some people are wondering if Dash has a bright future or ' is Dash crypto dead' is because Dash coin is dropping from the top 4 most popular coins to the 54th spot.
another reason some people are asking 'is Dash crypto dead?' is due to the Binance exchange delisting the coin. This means someone can't buy or sell Dash on Binance any longer.
As you can guess, this is not so good for the price of a coin or the future of a project. The situation gets even worst when you you realize that Binance is the most popular exchange in the world. However, there is still hope since the price of the coin gained nearly 10% today at the time of writing.
Needless to say, Dash needs to (and is trying to) do all it can to get back on the Binance exchange. If it manages to do so, the Dash crypto will obviously gain value again.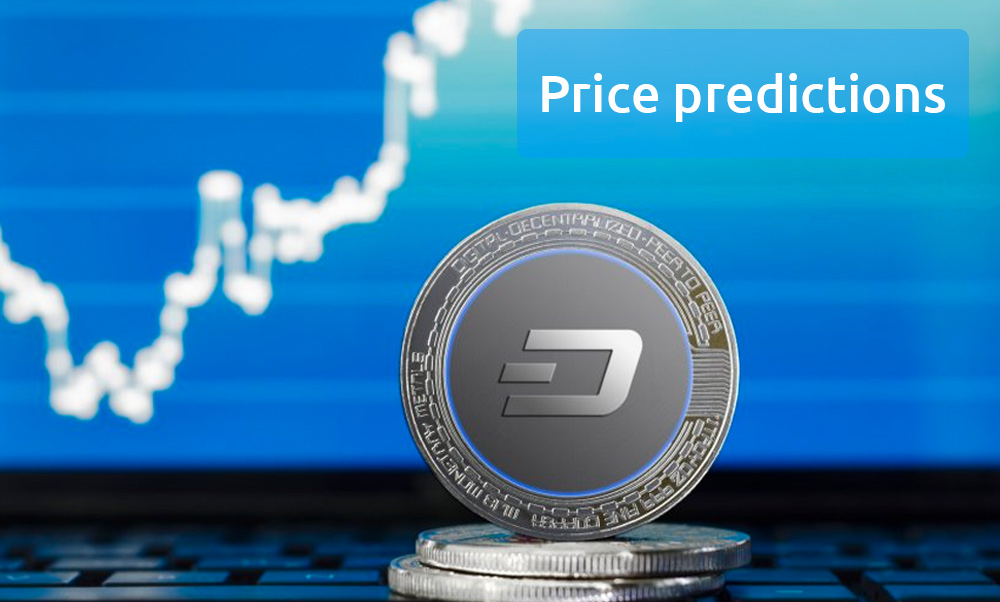 Price predictions for Dash crypto
Let's have a quick look at what some of the most reliable analysts have to say about the price of the Dash crypto for this year and also the upcoming years. The information given below is according to CoinCodex's analysis.
All the weekly simple moving averages (SMA) and exponential moving averages (EMA) gave 'sell' signals. The Williams percentage range and the stochastic RSI (stoch RSI) were also bearish.
The volume-weighted moving averages (VWMA), Hull moving average (HMA), and average directional index (ADX) gave 'buy' signals. Meanwhile, the moving average convergence divergence (MACD) and relative strength index (RSI) were neutral.
CoinCodex suggested the token price could rise by 0.14% to reach $111.39 by 12 February 2022. Today we can see that this prediction has been very close to Dash's actual price at the time of writing.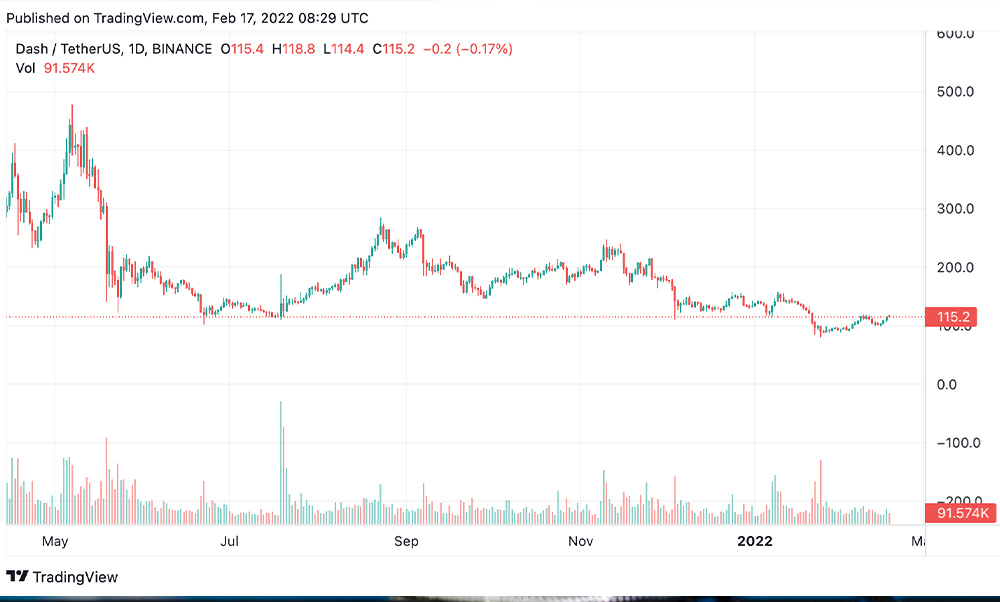 Regarding the price predictions for the future and upcoming years, the three following predictions can be mentioned:
 Wallet Investor: the coin's average price may reach $219.11 by the end of 2022 and go up to $368.42 by 2025.
Digital Coin: the average price in 2022 might be $149.41, moving up to $179.59 in 2023, $241.41 in 2025.
 Price Prediction: the average price may reach $144.11 in 2022, $455.10 in 2025.
When looking for dash coin predictions, bear in mind that analysts' and algorithm-based targets can be wrong. These dash projections are based on fundamental and technical studies of past performance. Past performance is no guarantee of future results.
It's essential to do your research and always remember your decision to trade depends on your attitude to risk, your expertise in the market, the spread of your investment portfolio and how comfortable you feel about losing money. You should never invest money that you cannot afford to lose.
What's the difference between Bitcoin and Dash crypto?
While there are many differences between the two coins, an important difference is that Dash is much more efficient. Through its InstantSend feature, Dash offers transactions that process in a short period (a couple of seconds). Since the release of Dash v0.14, all transactions are effectively InstantSend transactions. Bitcoin transactions, on the other hand, take considerably longer.
Also, transaction fees are much lower if you use Dash. Although fee amounts can vary, they usually cost $0.01 to $0.02. Bitcoin transaction fees can range from $1 to more than $30.
They also have different mining algorithms, which are the rules for the computational work involved in mining a cryptocurrency. Dash uses X11, a newer mining algorithm that requires less processing power.
It's hard to say if Dash will be successful as a long-term investment, given that its utility is based around being a payments system. But as a way to transfer money and make purchases, Dash has potential.
Controversies around the Dash crypto
One of the main controversies around Dash was a mistake that was made early on that allowed 2 million coins to be mined within the first week.
Some people are thinking that the developers own this big amount of supply. This is the primary controversy and it is making some users and investors nervous. The reason is not hard to grasp – If the owner of these coins decides to sell all the coins at once then it would drop the price significantly.
If this is a mistake, It does seem like a strange mistake to make. To be fair in every stock a large percentage of the stock is controlled by certain people like the CEO. For instance, Jeff Bezos owns more than 10% of Amazon Stock.
Also, as mentioned above Binance and Bittrex crypto exchanges removed Dash coin from their platform. This is why people are wondering and asking the question "is Dash crypto dead?"
What makes Dash a unique project?
The most unique aspect of Dash is its masternodes system.
A masternode is a special server with a full copy of the Dash blockchain network. Users who own 1,000 Dash or more may operate masternodes that power several of Dash's features.
These features include InstantSend, which allows for fully confirmed transactions within less than three seconds, and CoinJoin, a method of running a sequence of transactions and making them harder to trace.
In exchange for running masternodes, users receive a portion of the block rewards from mining Dash crypto.
Another concept worth noting is how user-friendly Dash is.
Its website explains the way Dash functions and where you can buy it. Even though this seems minor and not unique, it stands out compared to all the cryptocurrencies with very confusing websites.
Dash's Roadmap: is Dash crypto dead or is it just the beginning of the road?
Conclusions: Is Dash crypto dead?
After reading the paragraphs above, you could say that the future of the Dash crypto depends on their road map and how they move forward. If the project manages to deliver the promises they have given, the crypto may gain further value in the upcoming years. In that case, we can say that Dash crypto is not dead.
However, if it takes too long for the project to deliver what it has promised, it is unlikely that the price will surge higher than it is.